New evidence has shown that warm ups that include agility, balance, strength and aerobic components significantly reduce rates of injury by up to 35% and improve fitness (Emery et al., 2015).
The University of Calgary's Sport Injury Prevention Research Centre (SIPRC) partnered with Ever Active Schools to better understand the effectiveness of neuromuscular warm up programs in junior high physical education classes. A three year study in Calgary junior high schools showed that students who consistently completed this type of neuromuscular warm up in their physical education classes had significantly fewer lower body injuries compared to their peers (Emery, et al., 2018). This is particularly important given that 70% of injuries from sport and recreation are in the lower extremities (Murphy, 2003)
The Let's Warm Up! poster has been updated to include these evidence-informed warm-up exercises. The development process was a collaboration between researchers, physical activity leaders, and school health facilitators from the Be Fit For Life Network, Ever Active Schools, and the Sport Injury Prevention Research Centre at the University of Calgary. The poster provides a menu of options of aerobic, agility, strength and balance exercises and encourages teachers and students to build on the list and get creative!
Target Audience: Junior high school teachers, coaches, recreation leaders, or anyone leading physical activity!
Cost: Free Download
Supporting Resources for Leaders: Visit this Google Drive folder for warm up game ideas, YouTube video with demonstrations of each exercise, and other teaching resources.
Preview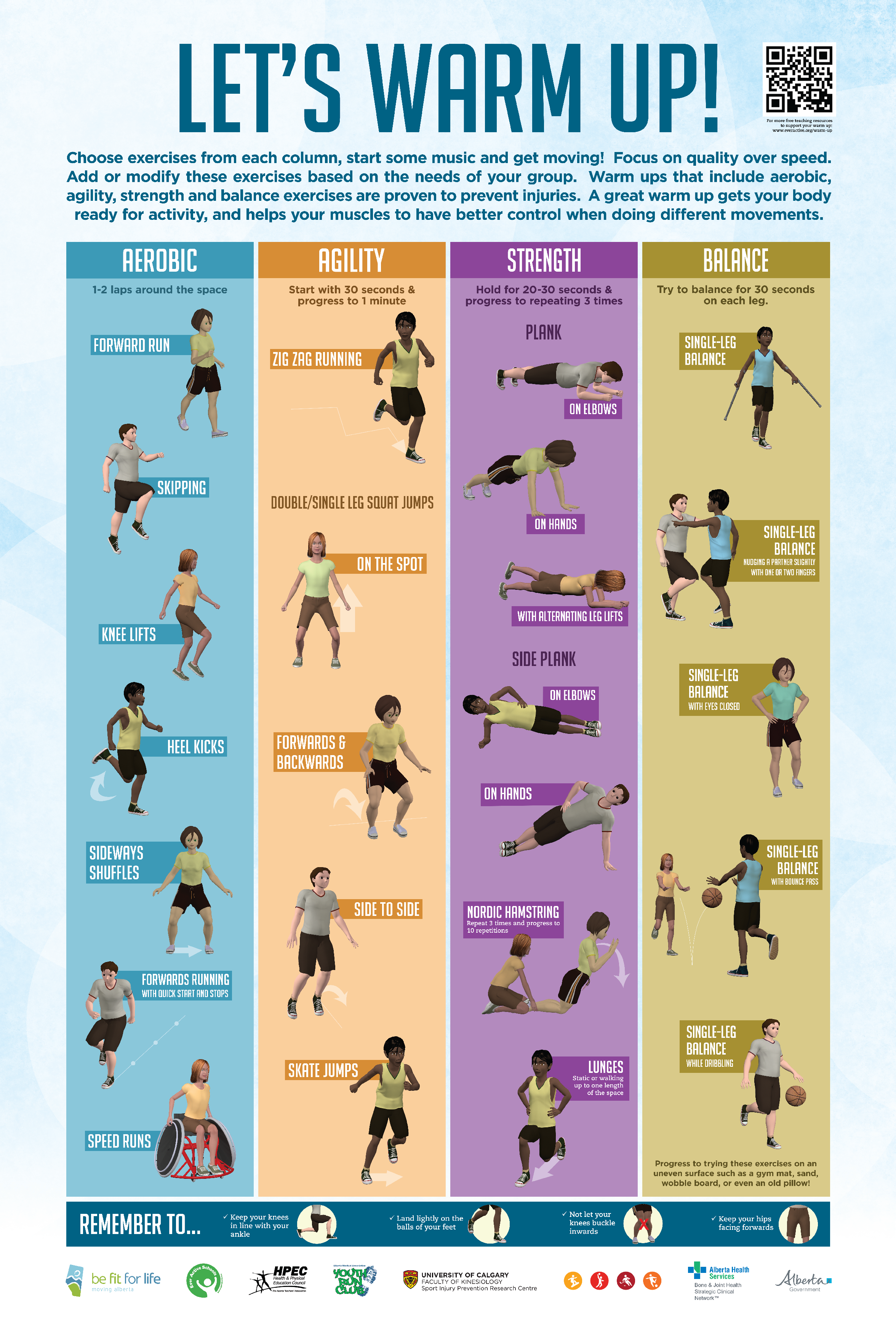 Emery, C. A., Roy, T., Whittaker, J. L., Nettel-Aguirre, A., & Mechelen, W. V. (2015). Neuromuscular training injury prevention strategies in youth sport: A systematic review and meta-analysis. British Journal of Sports Medicine,49(13), 865-870.
Emery C, Vandenberg C, Richmond S, Palacios-Derflingher L, Nettel-Aguirre A, McKinlay M, Doyle-Baker PK & Hagel B (2018). A school-based program to reduce injuries through neuromuscular training: iSPRINT a cluster-randomized controlled trial. Clinical Journal of Sport Medicine 28(3), e46-e50.
Murphy, D. F. (2003). Risk factors for lower extremity injury: A review of the literature. British Journal of Sports Medicine,37(1), 13-29.