With classes cancelled and public health recommendations to practice social distancing to limit the spread of COVID-19/Coronavirus, we'll be compiling and sharing ideas to keep the whole family moving while at home.
We'd love to hear and share how you and your family are staying active while practicing social distancing. Tag @bfflnetwork on Instagram or Twitter, or email bffln@provincialfitnessunit.ca and we'll add your ideas to our list and share them on social media.
Being active in a way that is right for you, can improve your physical health, help manage stress and anxiety and just generally make you feel better.
You can also still go outside for a walk, run, snowshoe – or any other way you normally get active outside – provided you are doing so in a way that meets the latest guidance on social distancing and advice on unnecessary social contact.
Be Fit For Life's Guide for Parents: Physical Activity At Home During the
COVID

-19 Pandemic

There are lots of physical activity resources being shared through different media channels during this time, which we recognize can be overwhelming. This simple guide can help you choose and develop a physical activity plan that works for your family. Download the infographic, the single page PDF handout, or individual images for sharing on social media.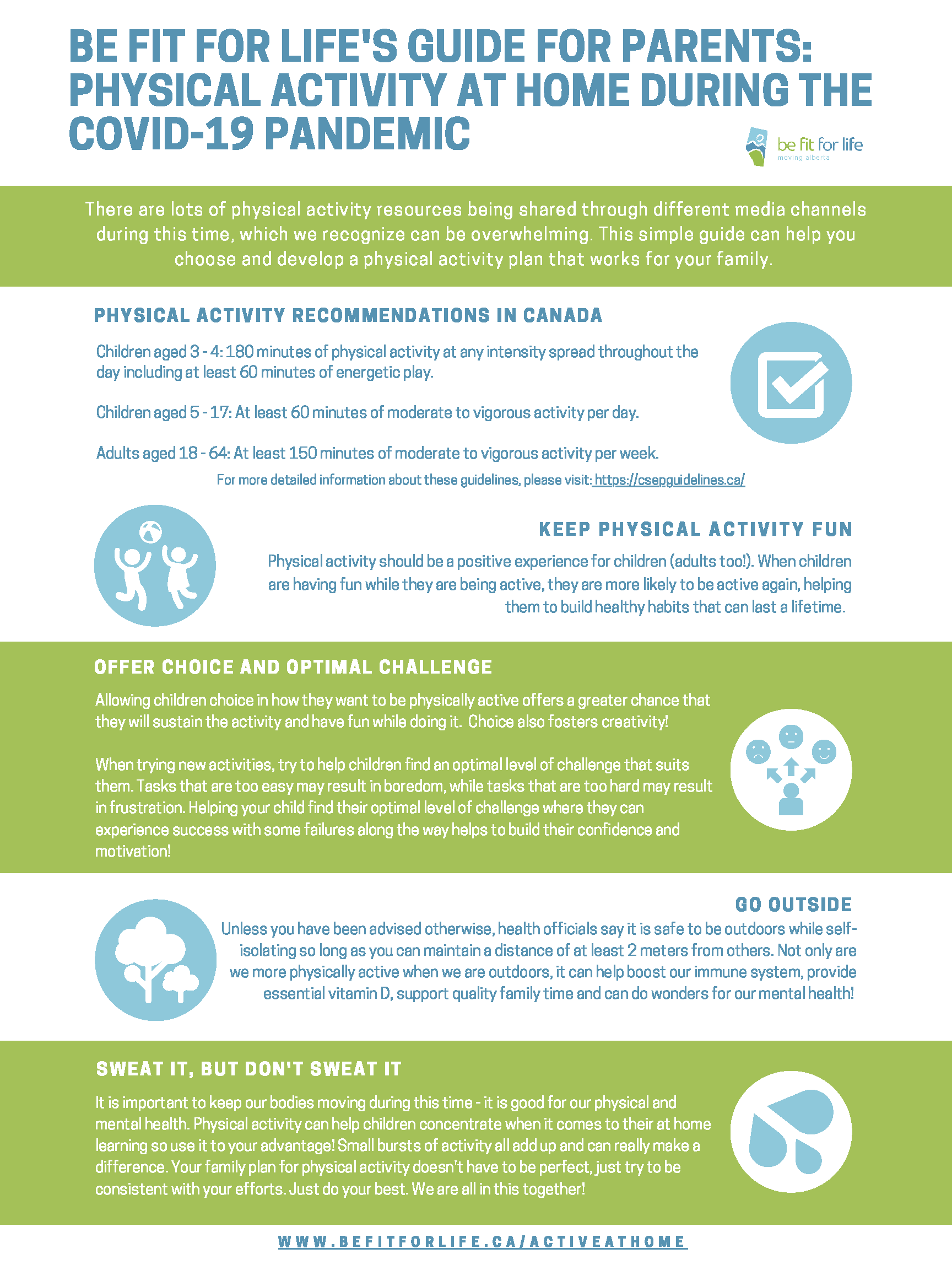 Activity Ideas for Adults
Be Active – Warming Up for Your Daily Life Poster
No equipment exercises that can help adults to maintain strength and balance to help prevent falls and be prepared for daily activities.
http://befitforlife.ca/resources/warmingupforlife
Free Online Streamed Fitness Classes
Many fitness facilities are offering free live streamed classes and/or at home workout templates daily.
One free example are the Down Dog Yoga & Fitness Apps. They are free for everyone until April 1st and for students, teachers and health care workers until July 1.
At-Home Isometric Exercise Ideas for People Living With a Disability, Article Shared by The Steadward Centre
Isometric exercise ideas for wheelchair users and people experiencing limited mobility.
https://activbody.com/top-exercises-for-people-living-with-a-disability/
Chair Yoga Flow
Try this chair yoga flow at home. Great for those with limited mobility.
https://www.purewow.com/wellness/chair-yoga-poses
UBC's Group-Based Physical Activity for Older Adults (Videos)
A series of instructional videos for older adults.
http://goal.kin.educ.ubc.ca/videos
Medicine Hat Be Fit For Life At-Home Workouts
Visit the MHC BFFL YouTube page, where they are posting a variety of workouts to do at home.
Vermilion Be Fit For Life Centre's At-Home Resources for Adults
Workplace Stretches
Activity Ideas for the Whole Family
Movement Dice
There are quite a few versions of the Movement Dice Posters. You could also use a blank one and create different ones each day, week, etc.
Here is a video of an example.
http://befitforlife.ca/resources/movementdice
Relay Games
These types of games would work well if students are at home with other family members.
Here is an example of an active game of tik tac toe. This same idea could be used for spelling or math.
Warm Up Poster
Use this poster to create a home fitness routine.
http://befitforlife.ca/resources/lets-warm-up
Zen Me
Mindfulness activities that include strategies to manage stress, emotions and attention
http://befitforlife.ca/resources/zenhandout
Yoga Techniques
Small space movement activities
Here is a link to a 30 minute yoga sequence loaded onto powerpoint
AMA Youth Run Club
The Alberta Medical Association Youth Run Club has many resources to keep the whole family moving. Follow along this Yoga & Relaxation Sequence or try these Partner Strength Training Exercises.
10 At Home Learning & Movement Activities
Activities compiled by Phys. Ed. Teacher, Kevin Tiller
https://drive.google.com/file/d/1e_wiOgOgfkIXpVLo-ST0hi2J-L2mf3BN/view
DANCEPL3Y
A YouTube Playlist of Home Dances for COVID-19
They also have Daily Live Classes found at https://www.pl3yinc.com/at-home-pl3y-classes
Another YouTube playlist of Follow-Along Dances for Phys-Ed
Just Dance Kids
Just Dance Kids has many dances to follow along to on YouTube. Gather the family and have a dance party!
https://www.youtube.com/results?search_query=just+dance+kids
ARPAs Nature Play Flash Cards
Ideas and activities to rediscover play in natural spaces.
http://s3.arpaonline.ca/docs/nature-play_flash-cards_web.pdf
Active for Life Resources
AFL has a wealth of activity ideas and resource for parents. They have compiled a list of 200 activities to do with your kids at home.
https://activeforlife.com/200-activities-you-can-do-with-kids-at-home/
Medicine Hat Be Fit For Life's Live Workouts & Active Breaks
Variety of instructor led home workouts and active breaks. Follow along for live at home workouts and active breaks. To be posted on YouTube afterwards.
Visit them on Youtube and Facebook
Calgary Board of Education At-Home Activities
Great variety of activities that can be done offline and outside
https://cbe.ab.ca/programs/curriculum/learning-at-home/Pages/k-6.aspx
BOKS Kids At Home
Live workouts and home activity packs.
https://www.bokskids.ca/boks-at-home/
Joe Wicks – Kids Workouts to Do At Home
A variety of YouTube workouts that can be done at home.
https://www.youtube.com/playlist?list=PLyCLoPd4VxBvPHOpzoEk5onAEbq40g2-k
Adventure Play
Learn tips to encourage Adventure PLAY
Download the handout for parents/caregivers/leaders
Download the Adventure Play BINGO card.
Grande Prairie Regional Sport Connection At-Home Sport & Recreation
Find local and non-local resources compiled by sport and recreation partners in Grande Prairie
https://gpsportconnect.ca/online-fitness-classes
AniMoves Indigenous Languages Edition
Use the deck of Alphabet AniMoves to help explore fun and creative movements while learning the names of animals in Indigenous languages of Alberta. Download the Cree Edition, Blackfoot Edition & Stoney Nakoda Edition.
A Blackfoot Movement Story
This moving story book was created as an introduction to the Blackfoot Creation Story. Download the story and move along to it!
Online OPEN PE Network – weekly at home lesson plans
This website is great for a PE teacher to teach from home
https://openphysed.org/activeschools/activehome
Get Outside And Play Free Resources
Download resources to help dress for the weather and play outside.
https://getoutsideandplay.ca/resources
Mindful Moments Bookmarks
These fun colourful bookmarks provide everyday ideas and simple techniques to inspire mindfulness. This resource was developed in partnership with the CHHS Blue Crew Wellness Team. Print the document, linked here, double-sided on cardstock and cut into bookmarks to share.
Canada's National Ballet School's Sharing Dance
Canada's National Ballet School provides many different opportunities for people of all ages and abilities to share dance. They are sharing videos online for all ages. Scroll to the bottom for a 2 part video under the "All Ages" section. Easy to follow breakdown of the dance and includes a seated modification.
https://www.nbs-enb.ca/Sharing-Dance/Bring-Dance-Into-Your-Home
PLAY Educator
Many free downloadable resources focusing on fundamentals and physical literacy. You can also visit PLAY Education's YouTube page with more activities.
More Be Fit For Life Free Downloadable Resources
How to Dress for the Weather
Little Movers Playlist
Family Scavenger Hunt
ParticipACTION's Build Your Best Day
Where kids learn the Canadian 24-Hour Movement Guidelines the fun way.
www.buildyourbestday.participaction.com
Free Downloads from the Medicine Hat Be Fit For Life Centre
Try Tropical Yoga Adventure, Activity Sticks, Summer Olympic Fit Zone, Minute to Move It, Arena Circuit or the Olympic Family Challenge. Located at the following link under the Downloable Resources tab.
www.mhc.ab.ca/PLAY
APPLE Schools
A Google Doc list of suggested Physical Activity, Mental Health, Healthy Eating Websites.
SOGO At Home
Adventure Running & Orienteering at home activities with options for preschoolers, 6-12yrs, 10-16yrs and their families. Visit their website.
OPHEA Supports Phys Ed At Home
A variety of resources to support support parents and caregivers with health and physical education at home. Visit their collection of resources on their website.
Edmonton Sport Council
A variety of resources to get kids active at home. Visit their webpage.
I Love a Challenge – Dark House Athletic
Individual challenges on YouTube to get everybody active. Visit Dark Horse Athletic.
Physical Literacy At Home Games – Medicine Hat BFFL Centre
Try these at home games to support the development of physical literacy. This YouTube Playlist includes Wacky Walks, Having a Ball, Body Bending Bean Bag Challenge, and Balloon Body Bump.
Canadian Tire Play from Home
A variety of resources and supports from a variety of partners. Visit their site.
Free Footie Daily Videos
Daily videos from friends of Free Footie – targeted at children and youth. Visit Free Footie on Facebook.
In Motion Network
Resources and links to get active at home. Visit their list on Google Drive.
Canadian Olympic School
At home activities from Canadian Olympic School. Visit their website.
Well At Home
Wellness ideas for school communities from Alberta Health Services'. All resources are available online and are categorized under Alberta Education's Dimensions of Wellness – Physical, Emotional, Intellectual, Social, Spiritual. View the list in Google Drive.